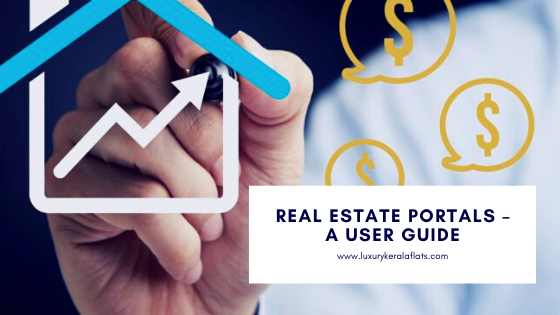 Real estate portals – A user guide
November 5, 2019|Posted in: real estate
In the real estate market every day is a new challenge! With new developments coming every day, real estate is a dynamic business with people always on the lookout to buy, sell, lease or rent properties. You need to be informed and aware of the recent trends in the market to get a good deal for yourself!
In India, the real estate market is at large driven by middlemen. Recently there has been an increase in the online real estate portals which have made it easier and convenient to evaluate the property without having to deal with the middlemen.
Here is a brief on online real estate portals from luxurykeralaflats.com, the leading real estate portal in Kerala. You can search for apartments in Kerala in luxurykeralaflats.com.
The most prominent real estate portals are Makaan, 99acres, Property bazaar, luxurykeralaflats.com, MagicBricks, India property etc. are some of the real estate portals trending in India's real estate scene. These portals have information and deals on flats in Kerala that are currently in the market. You can browse through properties suitable for your budget & location of your choice, from the comfort of your home.
Information on the latest amenities available in the market, comparison of the prices in the region of your choice, what kind of property is currently in demand, how the property should be priced, etc. is available in these portals.
When you are looking to buy, rent or sell properties you have plenty of options to fine-tune your search like specifying area, apartment or house, amenities required, approximate cost, area etc. You can see the picture of the building along with details. Some portals specifically show the interiors or a detailed floor plan, the total number of units in the apartment, the number of occupied units, amenities, the approval by the local authority etc.
Apart from buying or selling, you can search for a place to rent as well as post advertisements for the sale of your property. Some real estate portals offer free ads but others give premium paid memberships to put up ads for enhanced reach to potential customers.
Most real estate portals feature a statistical account of home trends, area wise preference of people, statistical estimates on price trends etc.
Many informative blogs on these portals give an insight into the steps you need to take before zeroing in on a property. Information on property laws, required documentation, and details about the most important tips to keep in mind when buying real estate, are available on these real estate portals.
Real estate portals are slowly replacing the traditional real estate brokers as they offer more choices and all the details needed to make the right choice. We hope this Real estate portals – A user guide has been useful to you. To know more on flats in Kerala, check out luxurykeralaflats.com. 
1 Comment