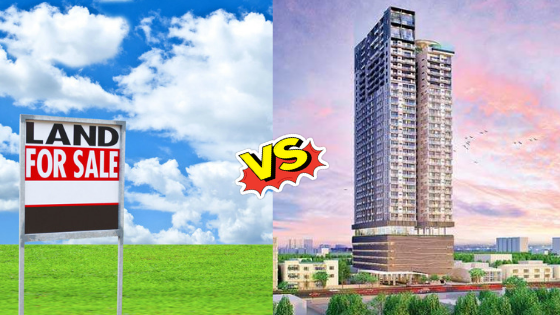 Apartment or land, which is a wise choice?
August 26, 2019|Posted in: home, real estate
Buying a property has always been a tough decision to make! When you are having the capacity to buy you have to make a wise choice as to what to buy – an apartment or a built-up house or a plot.
Which is better?
Every investor must be facing this question. For some, it's about moving into our very first home, for some others, it could be earning a good ROI from the investment. Lifestyle preferences also play a major role apart from that you have to look at aspects like taxation and bank loans as well. Both the investments have their merits and demerits. Not to worry…
We at luxurykeralaflats.com have put together a guideline that will help you make a wise choice!
When you are buying land means you always have the choice to build a house as per your requirements and constraints. But when it comes to buying flats in Kerala, they come pre-designed and in multi-floored construction. No choice to change the shape and size of the construction area. Nevertheless, it scores in security, accessibility and location advantages. 
Here's a comparison between Land Vs Flat investment's advantages & disadvantages
| | | |
| --- | --- | --- |
| Detail | Plot/Land | Flat/Apartment |
| Cost | Depends on locality, size and availability of space | Depends on locality, services, accessibility, size, design and developer's brand |
| Value Appreciation | More appreciation as space availability is becoming lesser quickly. Flexibility to build as per future requirements helps the cost of land and property to increases very fast. | Limited life span, hence value reduces. Not flexible to modify and expand. |
| Risk | Prone to litigations and it is very difficult to manage. | The developer may delay in giving possession and quality is often compromised to control the costs and meet the deadline. |
| Bank Assistance | Limited options to buy landed property as banks usually don't provide finance for buying a land/plot. | It's very easy to take a bank loan for buying a flat. |
| Regular Income Source/Rental Income | Generates a very low income if rented and can become subject to litigations by the tenant | Generates good income and fewer chances of litigation with modern laws in place. |
| Demand | Always in great demand and the value normally appreciates immediately due to zero depreciation on land. | Depreciation on construction reduces the growth rate, hence its value grows with a diminishing rate. |
Landed property has assured returns on investment, but usually, investment in full is needed and there is no choice of taking loans for the fund.  But flats in Kerala are very easy to buy and an investor can take a bank loan for its fund.  The possession delay by the builder can be a cause of major concern in the case of flats. 
Before checking out the best investment choice between land and luxury flats in Kerala, one should first focus on one's own requirements. If a person wants it for personal use, then the land can be an ideal choice but if the investor wants to resell the property after a short period, then flats are a better option. 
1 Comment