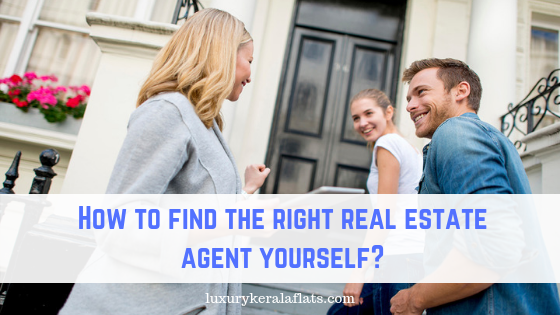 How to Find the Right Real Estate Agent Yourself ?
September 9, 2019|Posted in: real estate
The real estate industry has its ups and downs. It can be a challenge for any home-buyer or seller when having your first brush with real estate market.  Be aware that it is an industry full of risks. It's good if you have the support of a good real estate agent in all your real estate dealings even when checking out flats for sale in Kerala.  To begin with you may feel confused with so many agents in the market. Even if it is for luxury apartments in Kerala or any other real estate dealings, the right real estate agent can make all the difference!
Well, how to find the right real estate agent yourself? is a question that digs each person who is about to take his baby steps in real estate.
Search online 
Do a thorough research online for the top real estate companies in your area, check out the websites and look up profiles of individual agents at offices near you.  Find out the experience of the agent and see if he knows your market, listens & conducts ethical business. Ensure to read client reviews or comments. 
Ask for References

If you can get references from past clients you can have a fair idea on the capability of the agent. You can also ask specific questions related to your buying or selling situation like getting the property at low prices or preparing your flats for sale in Kerala to get optimum prices. 
Check for longevity 
Before hiring an agent ask how long he has been in the real estate business.  With lots of new agents coming in the market it is very essential that you should know this. An agent with good standing in the real estate market will be able to guide you through the complexities of buying, selling or renting. 
Look for loyalty
Customer loyalty is the best trait to look out for in a good real estate agent Find out if he/she works with their client's best interest at heart. Also, an agent should not try to sway a buyer or seller to pay more or spend less for his own personal gain. 
Trust your inner feeling
You can judge a person within the first few minutes of meeting him/her if you listen to your inner voice. You can know if the agent is more interested in his commission than your best interests by their words and body language. 
Ensure they fully understand
It's always good to give a wish list of important items to an agent before buying or selling. Then you can leave it to the agent to come forth with something as closely as possible before striking a deal.
Local knowledge of the Market
A good agent should have in depth knowledge of the market and process, be it in rentals, buying or sales of luxury apartments in Kerala. This plays a big part in you getting a good deal! 
We at luxurykeralaflats.com are with you in everything! Get in touch with us to know more.