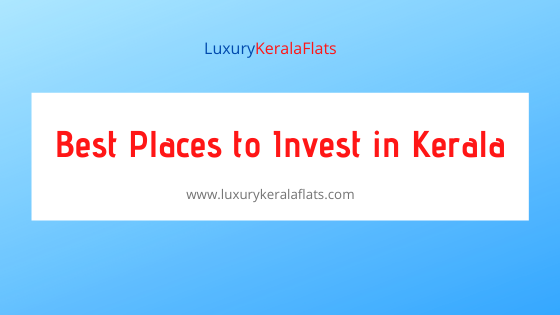 Best Places to Invest in Kerala
March 12, 2020|Posted in: real estate
Real estate is one of the very profitable businesses in Kerala. The sheer growth of new residential and commercial projects of Villas and flats in Kerala from renowned builders stand testimony to this fact. A number of new millennials are willing to invest in flats for sale in Kerala thanks to the fact that many jobs have been created. However, investing in real estate must be done carefully to get the returns you expect in lesser time. One of the major factors that decide the earning capacity of real estate investment is the location of the project. Keeping this very fact in mind luxurykeralaflats.com brings to you 4 best places to invest in Kerala.
Kochi
Kochi is a fast developing metro-city in Kerala and has always been a place where the real estate revolution is taking place at a quick pace. Kochi is witnessing the arrival of tens of thousands of people from across the country and it is one of the most sought-after locations in Kerala for real estate investment. The Kochi Metro, Vytilla transport hub, Info-park, good public amenities, offices of several multinational companies and exceptional transportation facilities make Kochi the hottest place for real estate investment in Kerala.
Trivandrum
As the capital city of Kerala, Trivandrum has also turned out to become the best and most preferred places to invest in Kerala. The reputation of being the capital of one of the most developed, educated and forward-thinking states of India makes Trivandrum an easy hub for people to invest in real estate. As there is the presence of several government and diplomatic offices, Technopark, upcoming Vizhinjam Port project etc. is sure to further enhance the appeal of Trivandrum for sure.
Calicut or Kozhikode
Kozhikode is yet another developing city of Kerala in the fast track! Calicut has been making headway in the race becoming an exceptionally important real estate investment destination in Kerala. As one of the largest districts in Kerala, Calicut has been the preferred choice of people to invest in larger real estate projects. Kozhikode boasts of good infrastructure and the proposed sub-urban rail projects and the developing UL Cyber park at the Thondayad Bypass, the Medical college, NIT etc are very important elements that make Calicut a valuable investment destination.
Thrissur
The cultural capital of Kerala has been attracting real estate buyers even though Thrissur might not boast as the fastest developing city in Kerala. The presence of many pilgrimage centres and eminent educational institutions makes the less crowded city of Thrissur, a cool place to invest. In a steadily growing district like Thrissur, one can be assured of good returns if you invest in flats in Kerala. 
While these places are the best ones to invest in real estate in Kerala, real research of the projects you are going to invest in and the earning prospects of the same must be done to avoid burning your fingers. luxurykeralaflats.com is your best resource to find out about flats for sale in Kerala.
1 Comment