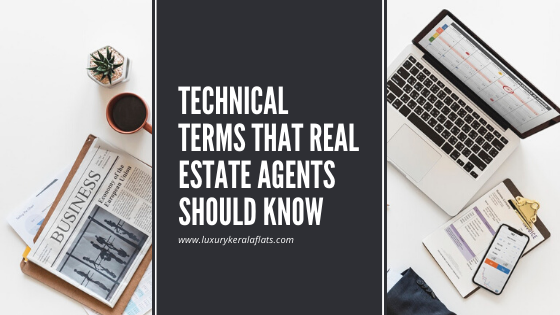 Technical terms that Real Estate agents should know
May 4, 2020|Posted in: real estate
The lockdown period is a good time to learn new things about the hard-core terms of real estate. The premium real estate portal of Kerala, luxurykeralaflats.com brings to you some technical terms that real estate agents should know. They may be of help to you when you are going to deal with flats for sale in Kerala.
Agreement for sale
It is the Real Estate Sale Contract or the legally binding agreement that brings together the two parties (buyer-seller) at the time of property purchase or transfer.
Asset Valuation or Appraisal
The process of calculating the fair market value of a property like a flat for sale in Kerala or a building, land, machinery or plant at regular intervals. 
Freehold property
A property where the owner has the complete & unconditional ownership of the land and also the building which stands on it. 
Basic Rent
The net monthly rent that contains maintenance charges and interest costs that the landlord quotes in the agreement while renting out a property. 
Built-up Area
It consists of everything right from the thickness of the outer walls, carpet area, balcony area until the inside walls.
Carpet Area 
It is the area of the house which does not include the inner walls' area. It also includes the terrace and balcony space.
Super built-up Area 
It includes the built-up area and all the usable areas like the lobby, stairs, corridors, lifts etc. which is proportionately divided among all the flats.
Per Square Foot Rate 
It is calculated from the value of the property based on the per square foot rate of the super built-up area or the "Saleable area".
Floor Space Index (FSI) 
FSI is the actual ratio between the total built-up area and the available plot area permitted by the Government for a specific locality.
Completion certificate
A completion certificate refers to the legal document that approves about the building construction norms and their adherence with Buildings Act. 
Conveyance
The act of transferring or conveying the rights, title, ownership & interests of a property from one person to the person who is purchasing the property.
Lease Agreement
Lease agreement is one type of contractual agreement made between the lessee (user) and the lessor (owner) to lease out the property for a period of time. 
Depreciation
It is the decline in the value of property brought about by age, physical deterioration, functional, obsolete etc.
Encumbrance Certificate
A report issued by the Sub-Registrar's office after due verification of the relevant documents certifying that the property in question is free from all encumbrances such as loans, leases, easements or restrictions.
Occupancy Certificate or OC
A certificate issued by the local development authority certifying that all works have been completed as per the sanctioned plans and the house or flat in Kerala is fit for occupation. The OC is issued after clearance from the water, electricity, sewerage, fire authorities etc.
To book luxury flats in Kochi, contact us at luxurykeralaflats.com.
1 Comment