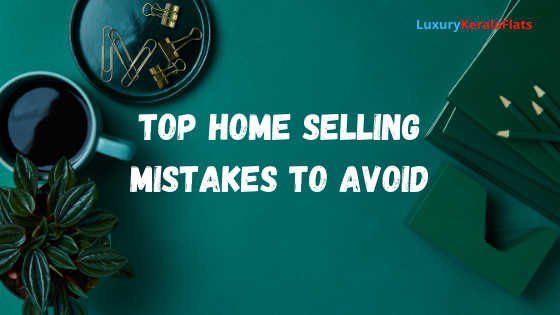 Top Home Selling Mistakes to Avoid
June 2, 2020|Posted in: home
Selling a home has many things at stake! It drains you so much emotionally and physically. Never let your emotions rule your judgement! When it comes to luxury flats for sale in Kochi, you naturally hope to make as much money as possible from your sale. With a little foresight and planning you can tide over the top home selling mistakes to avoid  & be on the safer side. Check out this list from luxurykeralaflats.com, the biggest real estate portal for buying Apartments in Kerala and experience a relatively smooth sales process with good returns.
Over pricing the home 
Overpricing is the number one home seller mistake to avoid! You may want the highest price for your apartment in Kerala but remember, the market is still the deciding factor of the price you can get for it. You have to price the house according to the market. You should price your home competitively as it will attract buyers.
Not preparing the home for sale
 Just putting up a listing for your luxury flat for sale in Kochi and wishing for the best is not enough for selling your home. It's the first impression that matters! You cannot expect good results if you do not put forth your best effort to present an attractive, desirable property. If there are any  plumbing, electrical or any other obvious issues that need to be fixed, fix them. You can hire a cleaning company to give the home a deep clean and definitely enjoy better results from your sale. 
Not hiring a skilled Real Estate Agent
Selling an apartment in Kerala by the owner is not easy. It takes a lot of hard work and time to sell a home for an excellent price. A real estate agent will be able to market quickly and ensure a relatively seamless sales process.
Hiring the wrong person as your Real Estate Agent
It can be a main reason on the list for home seller mistakes. Pricing a flat for sale in Kochi is a skill that only good real estate agents have! Also only some real estate agents have good marketing skills and are experienced in modern marketing technologies. You should interview potential real estate agents & ask plenty of questions, get referrals from other buyers or sellers who have engaged the agent and take your time. 
Selling before you are ready
Even when you have a good agent and are selling for a reasonable price, it's still hard work. It is still stressful and takes time and energy. It may also mean packing up and moving to a new house. Better to wait for the best time to sell in your local market to maximize the value. 
The prime real estate portal luxurykeralaflats.com is your best partner for selling or buying apartments in Kerala. You can get a good deal for your luxury flat for sale in Kochi if you partner with us.